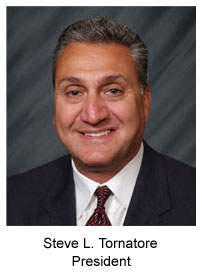 Steve L. Tornatore, President of Belleair Consulting Inc. has over thirty years of professional work experience with Johnson & Johnson, Hart Schaffner & Marx, and his own company, Belleair Consulting Inc. His background includes working with Manufacturing, Sales, Human Resources, Marketing, Public Relations Advertising and others. Steve L. Tornatore holds a Masters Degree in Business Administration from DePaul University in Chicago.
PROFESSIONAL EXPERIENCE:
BELLEAIR CONSULTING INC., Palatine, Illinois - April 1992 - Present
Position: President
Responsibilities:
Consultant to companies on Human Resources, Training, and Video/CD/DVD Production needs.
Develop, produce and present custom training, video, multimedia and human resources programs.
Prepare scripts, produce and direct video shoots and manage complete video projects for clients, including editing, graphics, animation, duplication of tapes, and programming CD's and DVD's.
Conduct programs to communicate and train target audiences, such as Supervisory Skills, Teambuilding, Time Management, Diversity, Interviewing Skills, Surveys, Career Assessment, Listening Skills, Stress Management, Performance Appraisals, Leadership and others.
HART SCHAFFNER & MARX, Chicago, Illinois - July 1981 - April 1992
Position: Director, Human Resources Planning and Development
Responsibilities:
Developed, directed, administered and implemented the training, recruitment, management development and succession planning efforts for all exempt personnel at fourteen locations.
Supervised the safety, security, workers' compensation, medical and personnel functions.
Administered all government, state and city training programs as it related to cost savings.
Producer of videos used for training, marketing and educational programs.
Developed and maintained employee relations programs.
JOHNSON & JOHNSON, Chicago, Illinois April 1974 - July 1981
Position: Safety, Security and Environmental Health Manager: April 1980 to July 1981
Responsibilities:
Designed, administered and implemented the safety, occupational health, security, medical and workers' compensation programs at two facilities.
Position: Shift Plant Manager - July 1979 to April 1980
Position: Manager, Training and Special Projects - May 1978 to July 1979
Position: Production Coordinator - November 1976 to May 1978
Position: Production Supervisor - April 1974 to November 1976
Family Business, Hotel, Lake Geneva, Wisconsin 1955 – 1980
EDUCATION:
B.A. - Lewis University
M.B.A. - DePaul University
ORGANIZATIONS:
Society of Human Resources Professionals
American Society for Training and Development